5 Wire Resistive Touch Screen Working Principle:

The 5 Wire Resistive Touch Screen is a two-layer structure,
1.ITO glass substrate with one side uniform resistive ITO coating.
2. A very thick polyester ITO film is tightly suspended over the top of the ITO glass substrate. This ITO film has a hard, durable coating on the outer side, on an inner side with ITO coating.
3. The ITO glass and the ITO film are separated by printed small, transparent insulation spacer dots.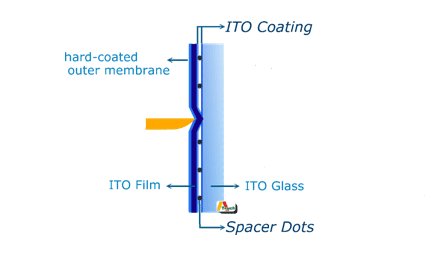 When the screen is touched, it pushes the ITO film to have electrical contact with ITO glass (both on the ITO coating side). It then produces a voltage which is the analog representation of the position touched.
 The 5 wire touch screen controller is always ready for a touch, and the resistive layer of the touch screen is biased at +5V through 4 drive lines on the glass (ITO coating side) and the ITO film is grounded through a high resistance. When there is no touch on the screen, the voltage is zero on the ITO film. The voltage level of the ITO film is analog - to - digital converter (A/D converter) and monitored by the microprocessor on the controller.
   When the screen is touched, the microprocessor detects the voltage rise in the ITO film and begins to convert the coordinates. The microprocessor places the X drive voltage by applying +5V voltage to pins H, X and grounding pins Y and L. The analog voltage is proportional to the X position (horizontal) of the touchpoint and appears on the ITO film at pin S of the touch screen tail's connector. This voltage is digitized by the A/D converter and transmitted to the computer.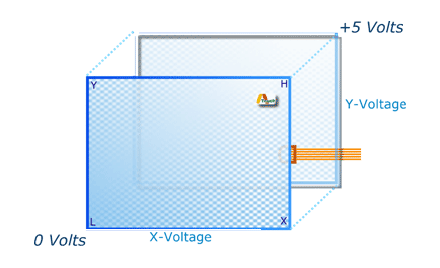 In the same process, the microprocessor places the Y drive voltage by the same +5V to pins H, Y and ground pins X and L. The analog voltage is proportional to the Y position (vertical) of touchpoint and appears on the ITO film at pin S of the touch screen tail's connector. The signal is converted and processed the same as for the X position.
 The controller will receive all data to calculate the touched position according to pre-established modes for the exact X and Y coordinates.

Advantages
Can be activated with any device

Low-cost solution

Low power consumption

Disadvantages

Less durability compared to other technologies

Less transmittance and overall optical quality

Requires periodic recalibration
Applications:
5 Wire Resistive touch screen is with the most extensive applications.

Point-of-Sale uses convenience store, movie theater, lottery terminal, fast food, etc.

Industrial uses Automated testing, automation equipment, man。machine interface, etc.

Medical uses medical instruments, research equipment, and patient monitoring systems.

Transportation uses: Inner vehicle control panel.